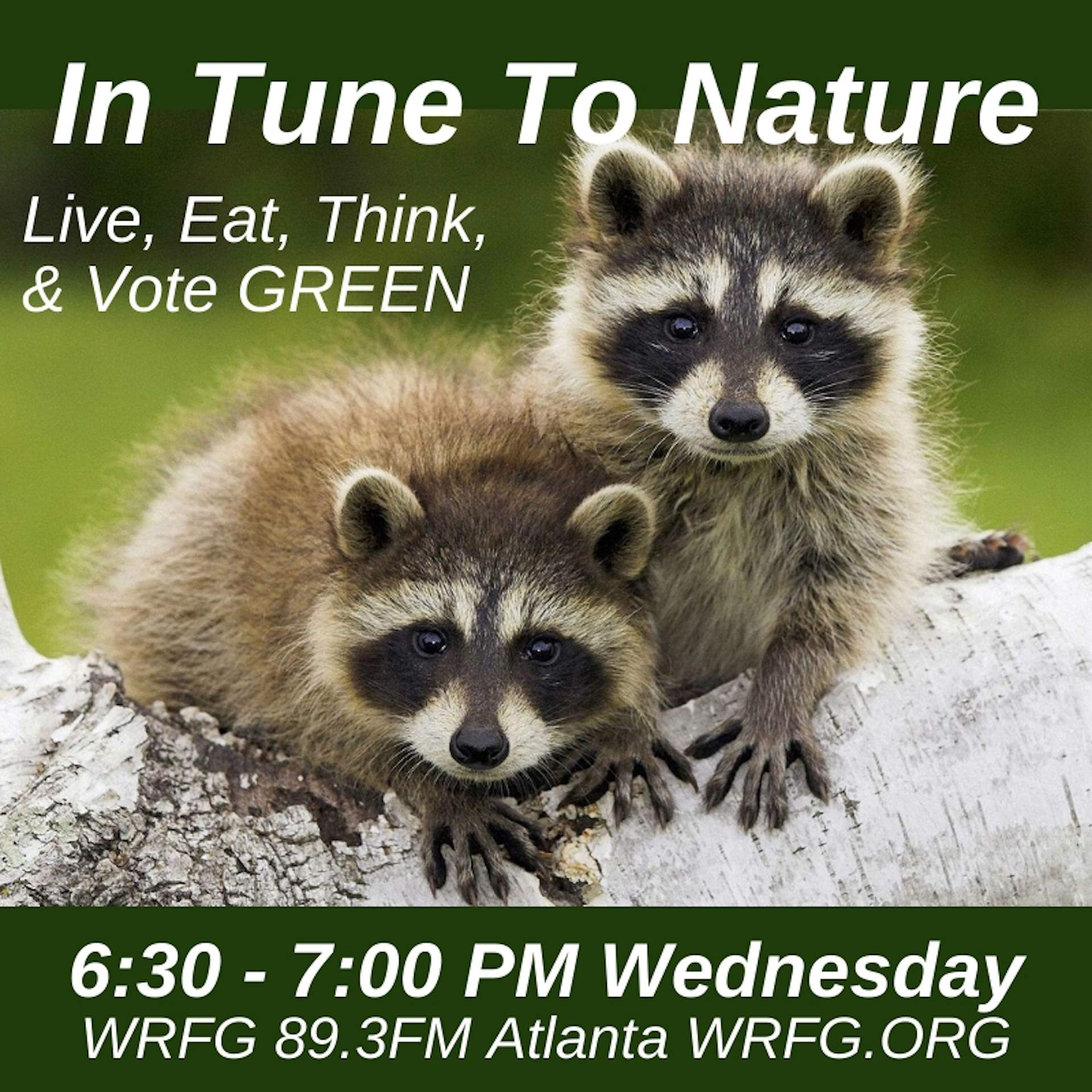 In Tune to Nature is an eco & animal protection weekly radio show broadcast from Atlanta on Radio Free Georgia Wednesdays from 6:30-7pm EST on wrfg.org and 89.3FM. 25-minute podcasts featuring interviews with activists, scientists, and authors who help us protect living beings and our shared habitats. Hosted by Carrie Freeman (Communication Professor and Human Animal Earthling). Studio photography by Ann Packwood.
Episodes
Tuesday Sep 20, 2022
Tuesday Sep 20, 2022
Food justice activist and veganic farmer Eugene Cooke shares an aspirational vision for why he practices agro-ecology in urban ag at Grow Where You Are farms around Atlanta and how this can be scaled up for widespread regenerative agricultural practices that the U.S. needs to stay viable and sustainable to feed our human population and nurture our soil naturally not chemically. In this 25-minute podcast (from Sept 2022), Eugene shares his unconventional roots from artist to farmer and what it's like to share his biodiverse Atlanta veganic crop farms with wildlife (not domesticating or farming any animals) and how they use composted food and yard scraps to generate compost fertilizers without all the slaughterhouse or antibiotic and chemical remnants in animal-based fertilizers. He and his farming partner Nicole then share their organic bounty with local folks (like at the Freedom Farmer's Market at the Carter Center each Saturday morning). Host Carrie Freeman is one of those nourished market customers enjoying their produce weekly (then composting the food scraps to make fertilizer to grow more food, via CompostNow). Eugene Cooke encourages us consumers to be part of this sustainable food transition by starting to eat more fresh foods/produce from regenerative agriculture producers, more so than eating processed commercial foods from big commodity monocrops. Check out his videos at https://www.growwhereyouare.farm/ or https://www.patreon.com/growwhereyouare 
In Tune to Nature is a weekly show airing on Wednesdays from 6:30-7pm EST on Atlanta indie station WRFG (Radio Free Georgia) 89.3FM hosted by Carrie Freeman, Sonia Swartz, or Melody Paris. Please consider donating to support this 50-year old independent progressive Atlanta radio station at www.wrfg.org 
Take care of yourself and others, including other species.