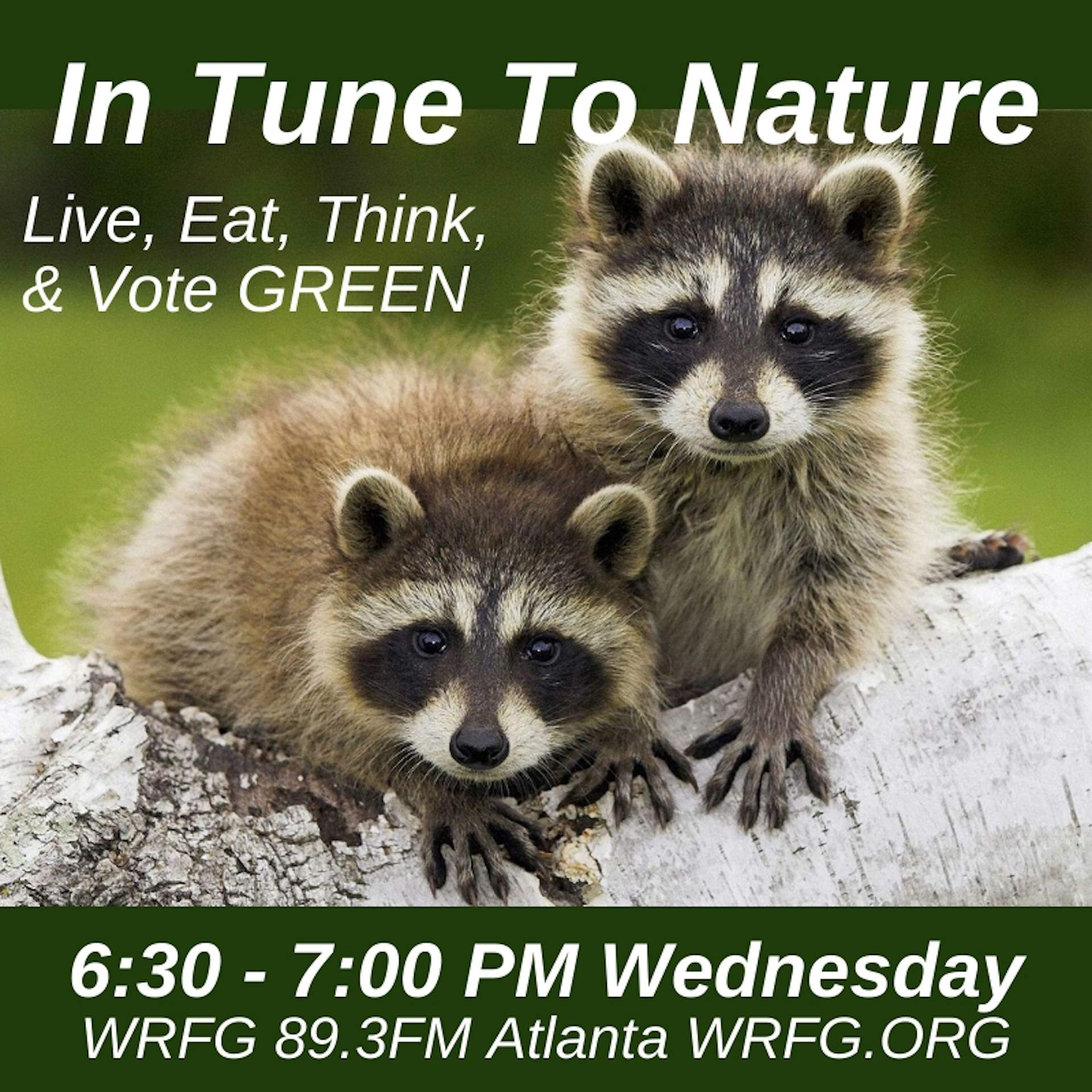 In Tune to Nature is an eco & animal protection weekly radio show broadcast from Atlanta on Radio Free Georgia Wednesdays from 6:30-7pm EST on wrfg.org and 89.3FM. 25-minute podcasts featuring interviews with activists, scientists, and authors who help us protect living beings and our shared habitats. Hosted by Carrie Freeman (Communication Professor and Human Animal Earthling). Studio photography by Ann Packwood.
Episodes
Thursday Mar 16, 2023
Thursday Mar 16, 2023
Mercy for Animals' Managing Director AJ Albrecht updates us on the state of the Avian Influenza crisis and the tens of millions of factory farmed birds who have been inhumanely killed/suffocated in an attempt to stop the spread (largely at U.S. taxpayer expense); she outlines a joint lawsuit Mercy for Animals filed against the USDA for their inadequate response to this massive outbreak, and she discusses the legal settlement. Additionally, bird flu isn't limited to birds, and it is spreading globally across wild and domesticated animal species, including mammals, but is especially problematic in spreading among the intensive confinement of egg laying hens in battery cages or chickens crammed in warehouses, making industrial animal agriculture a recurring problem for spreading zoonotic diseases. In this 25-minute radio podcast, host Carrie Freeman interviews AJ Albrecht, licensed attorney and Managing Director at the nonprofit Mercy for Animals, as she outlines the problems and the solutions. Find out more about this advocacy organization's plans to create an ecologically sustainable and compassionate food system at www.mercyforanimals.org 
In Tune to Nature is a weekly show airing on Wednesdays from 6:30-7pm EST on Atlanta indie station WRFG (Radio Free Georgia) 89.3FM hosted by Carrie Freeman or Melody Paris. Please consider donating to support this 50-year old independent, non-commercial, progressive Atlanta radio station at www.wrfg.org 
Photo: AJ Albrecht shown holding a chicken friend (neither of them has bird flu).
Take care of yourself and others, including other species, especially birds like chickens.