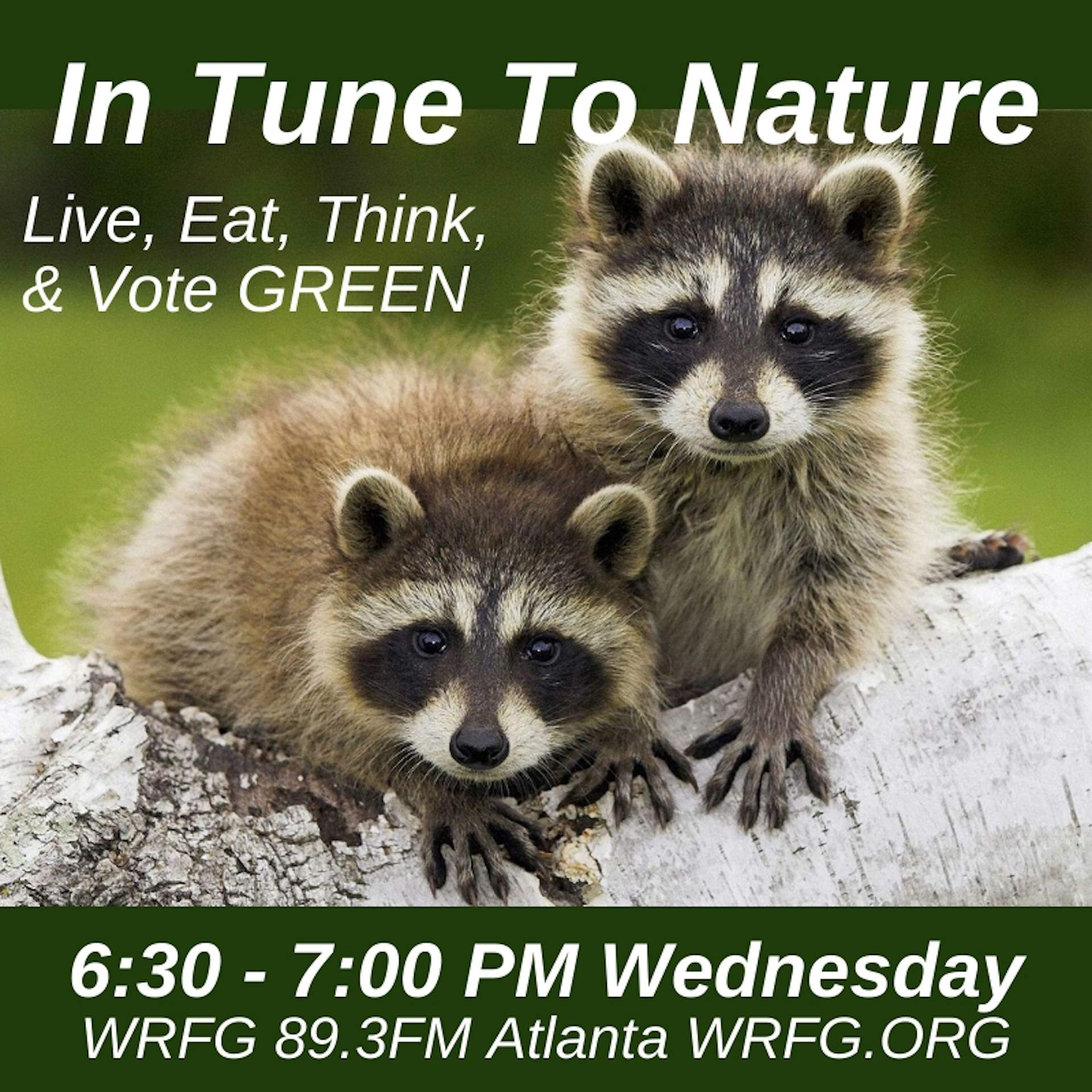 In Tune to Nature is an eco & animal protection weekly radio show broadcast from Atlanta on Radio Free Georgia Wednesdays from 6:30-7pm EST on wrfg.org and 89.3FM. 25-minute podcasts featuring interviews with activists, scientists, and authors who help us protect living beings and our shared habitats. Hosted by Carrie Freeman (Communication Professor and Human Animal Earthling). Studio photography by Ann Packwood.
Episodes
Friday Jul 21, 2023
Friday Jul 21, 2023
We discuss findings from a 2023 report "Animal Agriculture is the Missing Piece in Climate Change Media Coverage". Given the policy agenda-setting role of the news media, this report details what coverage improvements are warranted to facilitate needed farming and dietary changes in the U.S. to help mitigate the climate crisis, given the large role that animal ag plays in greenhouse gas emissions (especially via methane and deforestation). In this 25-minute podcast, In Tune to Nature host Carrie Freeman interviews two of the report's co-authors, Coni Arevalo (Research Associate at Faunalytics) and Jenny Splitter (Managing Editor at Sentient Media).
The report and its recommendations can be found, with an easy-to-read executive summary and infographics, at https://faunalytics.org/animal-ag-in-climate-media/
Faunalytics is a nonprofit research organization that conducts studies and shares knowledge to help advocates support animals effectively. Their website is https://faunalytics.org/.  And Sentient Media is a nonprofit journalism organization and news outlet dedicated to changing the conversation around animal agriculture. Their website is https://sentientmedia.org/  
Photo of cow used in the dairy industry, by Jo-Anne McArthur of We Animals Media. The breeding, raising, and feeding of cows is the main contributor in ag to the climate crisis.
In Tune to Nature is a long-time weekly show airing on Wednesdays from 6:30-7pm EST on Atlanta indie station WRFG (Radio Free Georgia) 89.3FM hosted by Carrie Freeman or Melody Paris. Please consider donating to support this 50-year old independent, non-commercial, progressive Atlanta radio station at https://wrfg.org/  
Remember to take care of yourself and others, including other species, like all the free/wild animals we share the planet with.