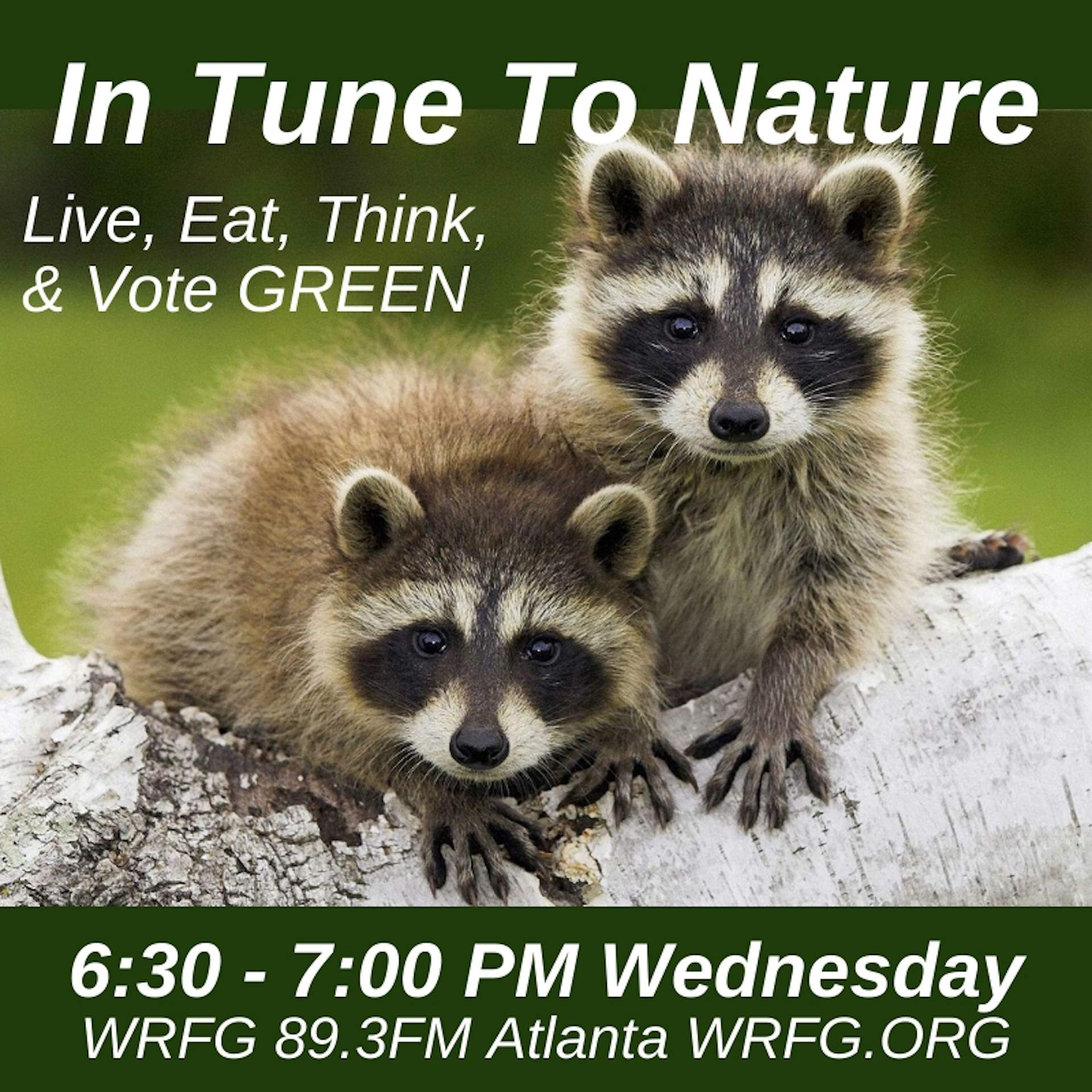 In Tune to Nature is an eco & animal protection weekly radio show broadcast from Atlanta on Radio Free Georgia Wednesdays from 6:30-7pm EST on wrfg.org and 89.3FM. 25-minute podcasts featuring interviews with activists, scientists, and authors who help us protect living beings and our shared habitats. Hosted by Carrie Freeman (Communication Professor and Human Animal Earthling). Studio photography by Ann Packwood.
Episodes
Monday May 15, 2023
Monday May 15, 2023
To help us understand how coyote families live among us in urban/suburban areas as productive members of ecosystems, Berry College Professor of Biology, Dr. Chris Mowry (and co-founder of the Atlanta Coyote Project) tells us about the natural history of wild canine species in the North America, specifically the Southeast region, where settler colonists drove out the native Red Wolf, and over the centuries the coyote has migrated to take the place of their wolf cousins.
Also in this 26-minute In Tune to Nature radio show, recorded in May 2023, host Carrie Freeman expresses concern over the GA Dept of Natural Resources' unfair designation of the coyote as an "invasive species," allowing open-season unlimited killing of coyotes by humans with hunting/trapping licenses. Dr. Mowry explains his and other scientific research findings that coyotes, like most predator species, end up productively enriching the biodiversity of our local ecosystems and therefore do not deserve the title of "invasive" (especially given the natural presence of wild canines in the Southeast historically).
We also discuss the family lives of coyotes and their daily routines, eating some plant foods and some small rodents. We end by discussing how to coexist with coyotes in our neighborhoods so that we don't attract them to our yards with petfood or seeds or fruits, and we avoid poisoning their food sources with rat poison, which could cause them to become diseased. Dr. Mowry explains why hiring a trapper to get rid of some local coyote isn't ultimately going to keep coyotes out of your communities, as other coyotes will eventually fill that open territory, so the smartest and most humane action is to coexist peacefully with this often elusive and reclusive species. Find info about how to coexist and other fun facts about local coyotes (plus photos and videos) on the Atlanta Coyote Project website. https://www.atlantacoyoteproject.org/ 
In Tune to Nature is a long-time weekly show airing on Wednesdays from 6:30-7pm EST on Atlanta indie station WRFG (Radio Free Georgia) 89.3FM hosted by Carrie Freeman or Melody Paris. Please consider donating to support this 50-year old independent, non-commercial, progressive Atlanta radio station at https://wrfg.org/  
Take care of yourself and others, including other species, like our urban wildlife.
PHOTO CREDIT: Biologist Dr. Larry Wilson (photo of a male coyote spotted in Atlanta's Piedmont Park in 2016. Since coyote's mate for life, he's also someone's partner and dad)