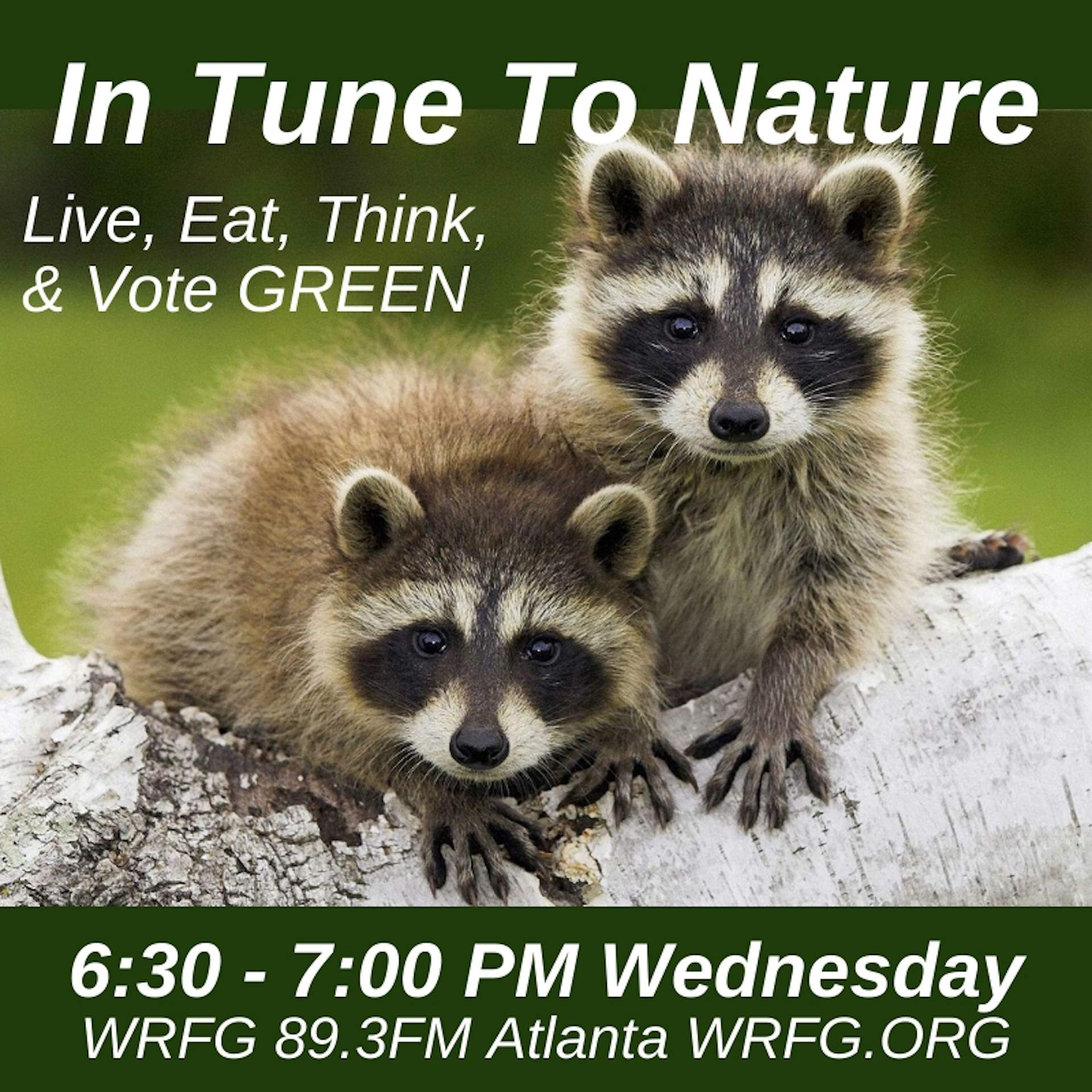 In Tune to Nature is an eco & animal protection weekly radio show broadcast from Atlanta on Radio Free Georgia Wednesdays from 6:30-7pm EST on wrfg.org and 89.3FM. 25-minute podcasts featuring interviews with activists, scientists, and authors who help us protect living beings and our shared habitats. Hosted by Carrie Freeman (Communication Professor and Human Animal Earthling). Studio photography by Ann Packwood.
Episodes
Saturday Oct 22, 2022
Saturday Oct 22, 2022
In support of eco-friendly candidates who are climate champions, Georgia Conservation Voters advocates for all citizens in GA to exercise their right to vote, with their "Democracy for All" initiative. In this 28-minute podcast, host Carrie Freeman interviews Brionte McCorkle, Executive Director or Georgia Conservation Voters about issues with voting in Georgia, how to make a plan to vote in this November 2022 election, and how her organization vets Georgia political candidates to decide on whom to endorse each election cycle. You can see their endorsed candidate list along with who is on your own ballot at https://www.gcvoters.org/endorsements/  This helps you make a plan to vote by November 8th and get informed on who has environmental platforms and eco-friendly voting records.
Voters in GA can also see their ballot and check on polling locations in their county by going to the GA Secretary of State's election website https://mvp.sos.ga.gov/s/ (early voting ends Nov. 4th)
In Tune to Nature is a weekly show airing on Wednesdays from 6:30-7pm EST on Atlanta indie radio station WRFG (Radio Free Georgia) 89.3FM hosted by Carrie Freeman, Sonia Swartz, or Melody Paris. Please consider donating to support this 50-year old independent progressive Atlanta radio station at www.wrfg.org 
Take care of yourself and others, including other species (and keep them in mind when you vote).