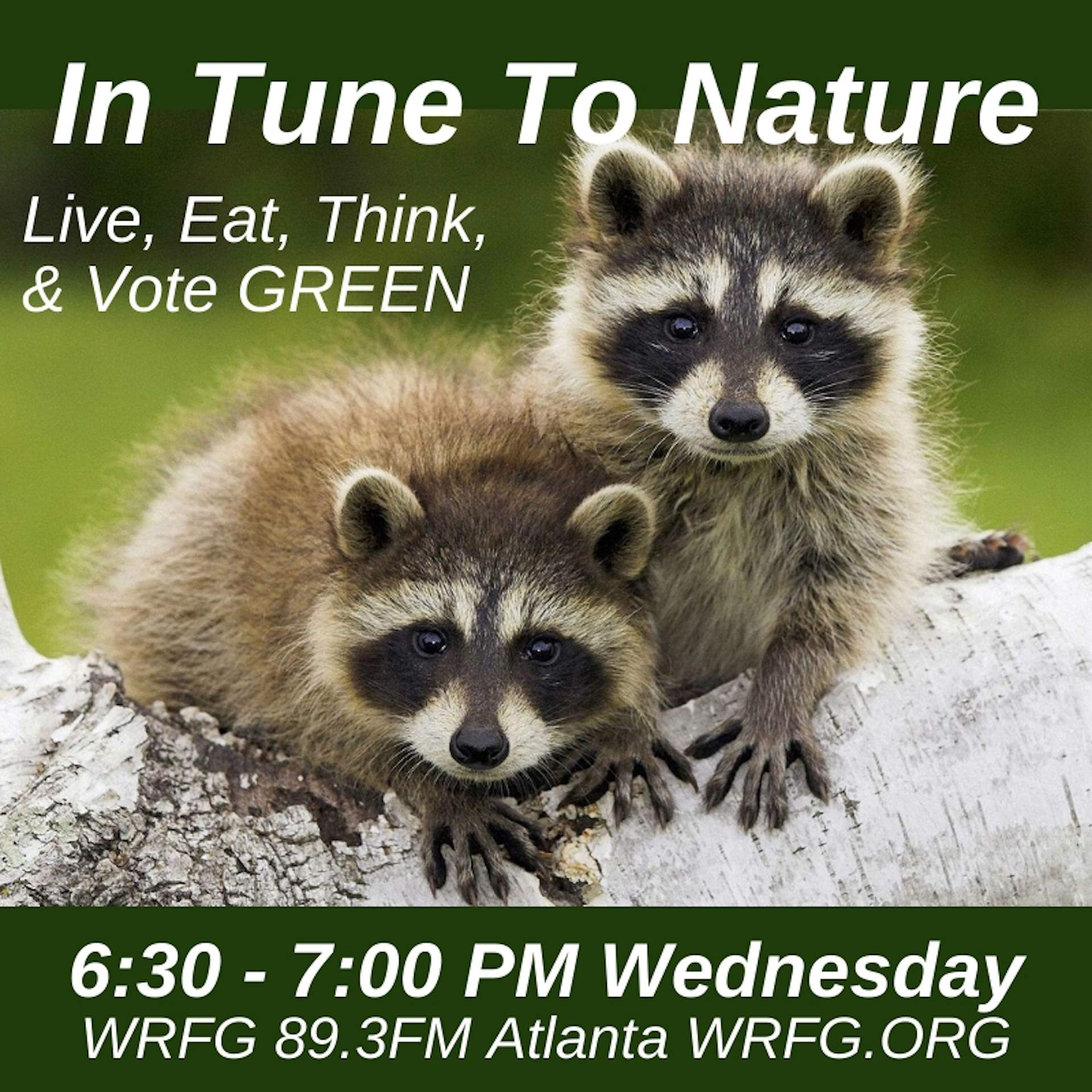 In Tune to Nature is an eco & animal protection weekly radio show broadcast from Atlanta on Radio Free Georgia Wednesdays from 6:30-7pm EST on wrfg.org and 89.3FM. 25-minute podcasts featuring interviews with activists, scientists, and authors who help us protect living beings and our shared habitats. Hosted by Carrie Freeman (Communication Professor and Human Animal Earthling). Studio photography by Ann Packwood.
Episodes
Monday Apr 10, 2023
Monday Apr 10, 2023
On behalf of Atlanta's biggest in-town forest, its resident wildlife, and nearby human neighbors, we discuss the 'Save The Atlanta Forest' movement also known as the 'Stop Cop City' movement, in Southeast Atlanta, comprised of many allied groups of citizens, especially Black residents, who over the last several years are working to stop the installation and building of a multi-million dollar, noisy and explosive, mega law enforcement training center in a greenspace and forested area (a former prison farm), where it is vehemently unwanted by the adjacent community and was already promised by a former mayor to be a preserved park. To tell us about that ongoing effort from an ecological and an environmental justice/racial justice perspective, host Carrie Freeman speaks with Dr. Jacqueline Echols, Board President of the South River Watershed Alliance and 2017 winner of GreenLaw's Environmental Hero award, who has worked in clean water and tree protection for a quarter century. This website provides action items and more info on the river and forest protection  https://www.southriverforest.org/   FYI: The email for the CEO of Dekalb County is CEOMichaelThurmond@dekalbcountyga.gov  and Atlanta Mayor Andre Dickens can be reached at  adickens@atlantaga.gov  
In this 26-minute podcast, originally aired in April 2023, Dr. Echols explains how this police training facility could be decentralized and placed in other communities -- ones who want it or who have not been disproportionately impacted by police violence and legal system discrimination for decades, as has this majority Black Southwest Atlanta community. Let's respect these residents' wishes and give them the park, the peace, and the clean water they want and deserve and that the local wildlife need. 
In Tune to Nature is a weekly show airing on Wednesdays from 6:30-7pm EST on Atlanta indie station WRFG (Radio Free Georgia) 89.3FM hosted by Carrie Freeman or Melody Paris. Please consider donating to support this 50-year old independent, non-commercial, progressive Atlanta radio station at https://wrfg.org/  
PHOTO: Dr. Jackie Echols kayaking on the South River
Take care of yourself and others, including other species.