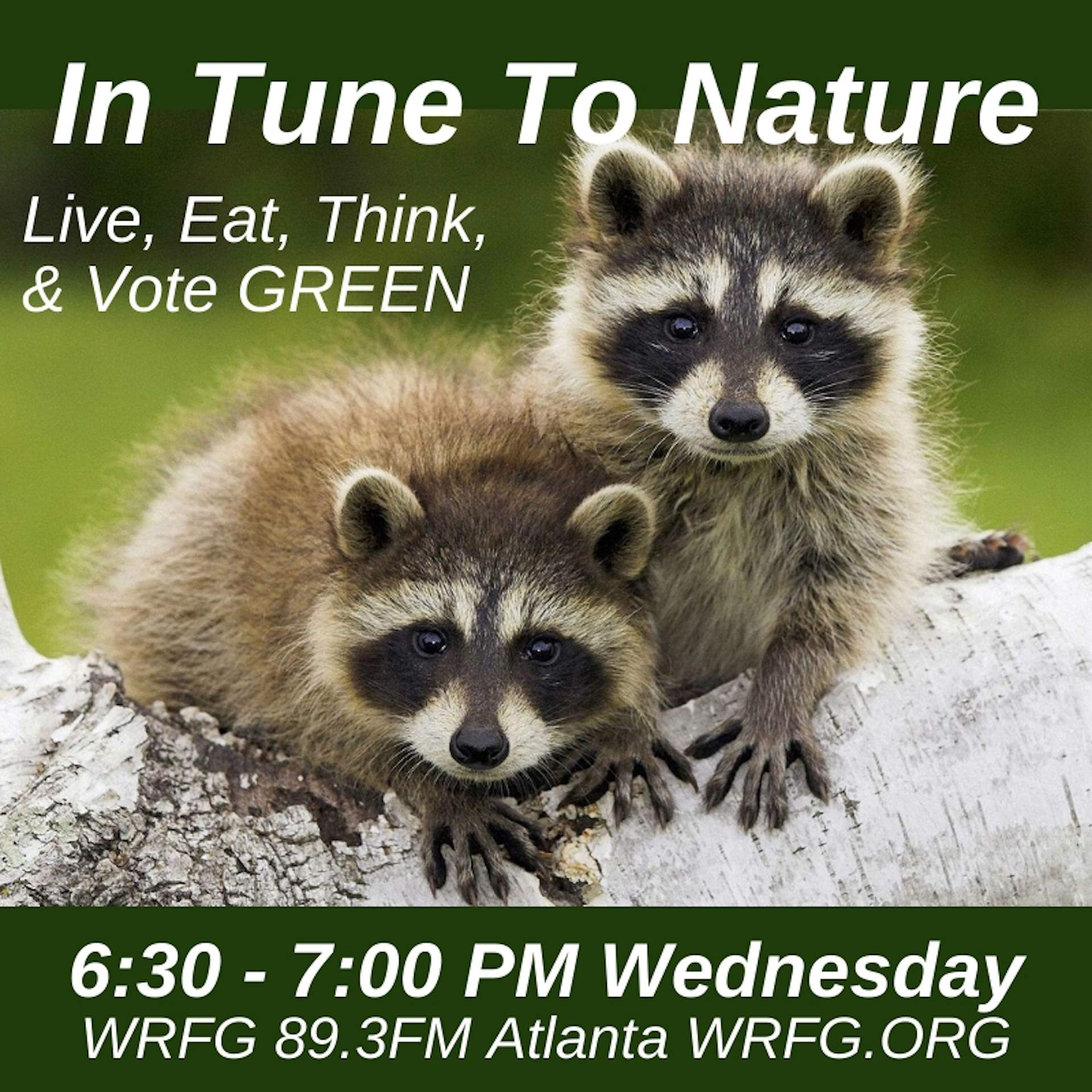 In Tune to Nature is an eco & animal protection weekly radio show broadcast from Atlanta on Radio Free Georgia Wednesdays from 6:30-7pm EST on wrfg.org and 89.3FM. 25-minute podcasts featuring interviews with activists, scientists, and authors who help us protect living beings and our shared habitats. Hosted by Carrie Freeman (Communication Professor and Human Animal Earthling). Studio photography by Ann Packwood.
Episodes
Thursday Aug 17, 2023
Thursday Aug 17, 2023
We discuss the need for marine eco policies and "sustainable fishing" policies to move toward a non-industrial discourse that treats fish as subjects and as ecological beings rather than primarily objectifying them as human food/stock/seafood – basically sustainable fisheries rhetoric should stop reducing fish and other aquatic animal species to mere economic resources to be 'sustainably managed'. Dr. Jennifer Jacquet, Professor of Environmental Science and Policy at Univ of Miami, explains her rationales for why a change in our discussion of fish (and relationship with fish) is warranted and ecologically beneficial, in this 25-minute podcast with host Carrie Freeman. 
This is based on an provocative perspective piece that Dr. Jennifer Jacquet recently co-authored with Dr. Daniel Pauly, published in the journal PLOS Biology, titled "Reimagining Sustainable Fisheries" that challenges the bias toward industrial fishing and economic commodities in our fisheries and marine environmental policies. She also unpacks the excuse that we need managed industrial fishing with quotas to "feed people" or for "food security" when so much caught fish just goes to feed farmed animals (including farmed fish) and to feed wealthier consumer market demands when these consumers often have more sustainable food options (like plant-based). She explains why sustainable fisheries policies need to focus on subsistence fishing (not industrial) and especially protecting marine habitats to help aquatic animals begin to thrive free of harassment/harm. The move to reimagine whales as beings not commodities can be a model for cultural and political change toward other marine animals. See https://ali.fish/blog/reimagining-sustainable-fisheries 
The photo of free/wild fish in the Maldives is by Sebastian Pena Lambarri on Unsplash. 
In Tune to Nature is a long-time weekly show airing on Wednesdays from 6:30-7pm EST on Atlanta indie station WRFG (Radio Free Georgia) 89.3FM hosted by Carrie Freeman or Melody Paris. Please consider donating to support this 50-year old independent, non-commercial, progressive Atlanta radio station at https://wrfg.org/  
Remember to take care of yourself and others, including other species, like those who live underwater.