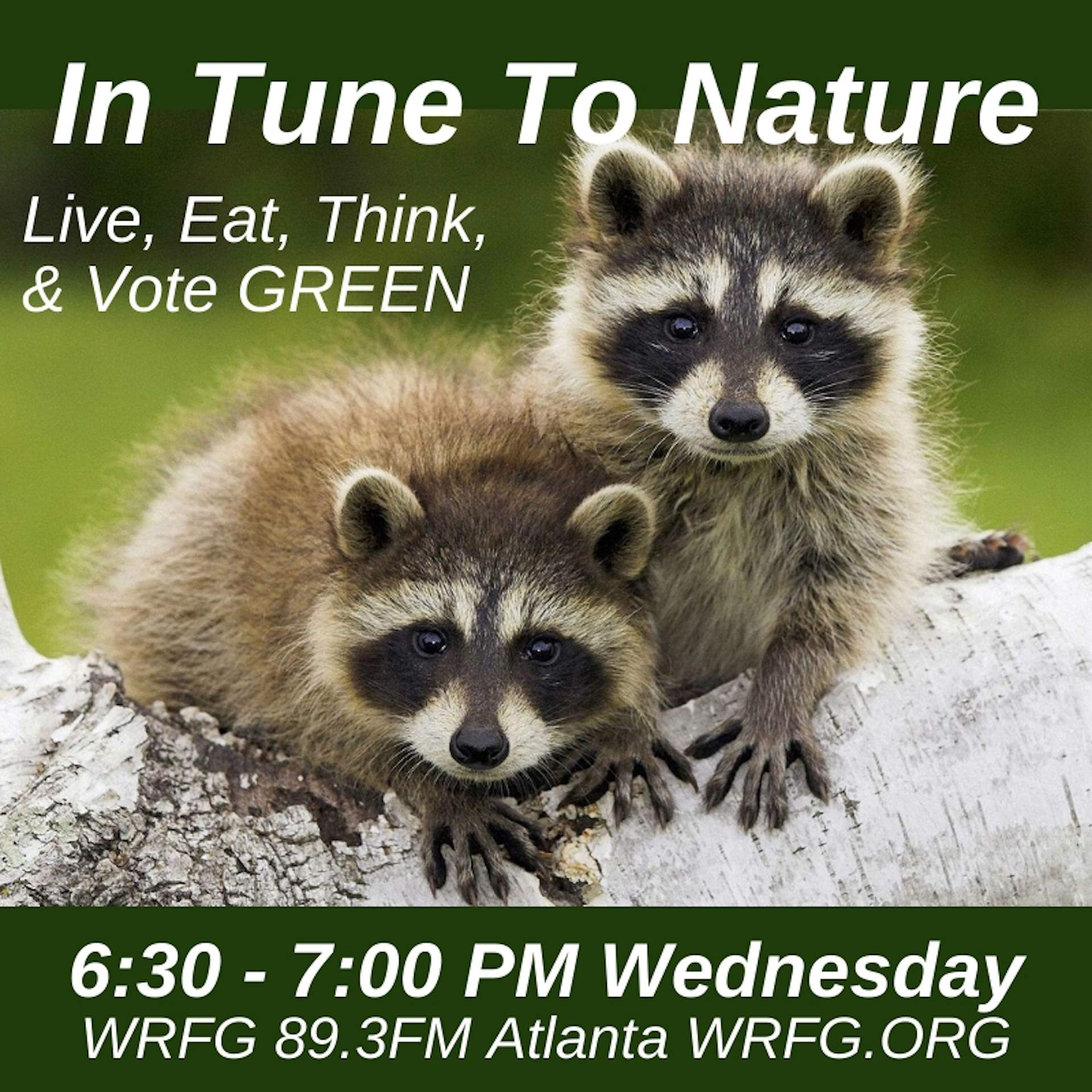 In Tune to Nature is an eco & animal protection weekly radio show broadcast from Atlanta on Radio Free Georgia Wednesdays from 6:30-7pm EST on wrfg.org and 89.3FM. 25-minute podcasts featuring interviews with activists, scientists, and authors who help us protect living beings and our shared habitats. Hosted by Carrie Freeman (Communication Professor and Human Animal Earthling). Studio photography by Ann Packwood.
Episodes
Sunday Mar 26, 2023
Sunday Mar 26, 2023
In this double-show, Leah Garces, President of Mercy for Animals, discusses initiatives to protect taxpayers, farm workers, chickens, and pigs in an unprecedented and long-overdue marker to the 2023 Farm Bill -- the Industrial Agriculture Accountability Act -- to be considered in the U.S. Congress in Fall 2023. After learning about these issues, U.S. citizens can contact their Congresspeople to express opinions on this critical bill, as Senators and Representatives in the House would need to sign on to it this spring and summer. This link helps you easily make contact: https://mercyforanimals.org/iaa/  
The Industrial Agriculture Accountability Act was put forward by Senator Cory Booker, a member of the Senate Agriculture Committee, who worked with Mercy for Animals and other farming groups to propose this groundbreaking legislation to start to hold accountable a corporate-dominated animal agribusiness industry, especially to get companies to better prepare for (and pay for) inevitable natural disasters and pandemics. So I devoted a double-long show to this topic, especially since the myriad problems with industrial animal agribusiness rarely get addressed in Congress (due to a powerful agribusiness lobby), despite how much the public disapproves of factory farming and how much taxpayer money goes to subsidize it (millions of taxpayer dollars annually are bailing out profitable factory farming corporations, especially during disasters, but also routinely in subsidizing their feed crops rather than subsidizing fruits and vegetables humans need to be eating more of). This radio show and this bill shine a light on many problems with factory farming that most of us don't know.
In this this 49-minute show recorded in March 2023, In Tune to Nature host Carrie Freeman interviews Leah Garces, long-time farmed animal advocate and current President of the nonprofit group Mercy for Animals at https://mercyforanimals.org/ With her on-the-farm experience, she helps us understand all the various exciting initiatives of the Industrial Agriculture Accountability Act and what it proposes to do to help humans (agricultural workers, incarcerated workers, and also taxpayers and some smaller 'growers' in debt to larger animal ag corporations) as well as helping other animal species in terms of reducing some of their immense suffering. From slowing down the kill-line speeds, to including chickens and turkeys in the Humane Methods of Slaughter Act, to prohibiting the killing of pigs too lame to walk, to reducing the time that hungry and thirsty animals are kept in transit to slaughterhouses, to offering severance pay and healthcare to vulnerable farmworkers in disasters, to prohibiting the continued exploitation of incarcerated workers made to work in factory farming disasters – this Industrial Agriculture Accountability Act is long overdue and needs everyone's attention, as the Farm Bill only gets amended every 5 years.
Also, in Dec 2022, Vox wrote a great overview of Sen. Booker's act titled "Sen. Cory Booker has a plan to stop taxpayer bailouts of Big Meat."
In Tune to Nature is a weekly show airing on Wednesdays from 6:30-7pm EST on Atlanta indie station WRFG (Radio Free Georgia) 89.3FM hosted by Carrie Freeman or Melody Paris. Please consider donating to support this 50-year old independent, non-commercial, progressive Atlanta radio station at https://wrfg.org/  
PHOTO: Leah Garces and rescued chicken
Take care of yourself and others, including other species.