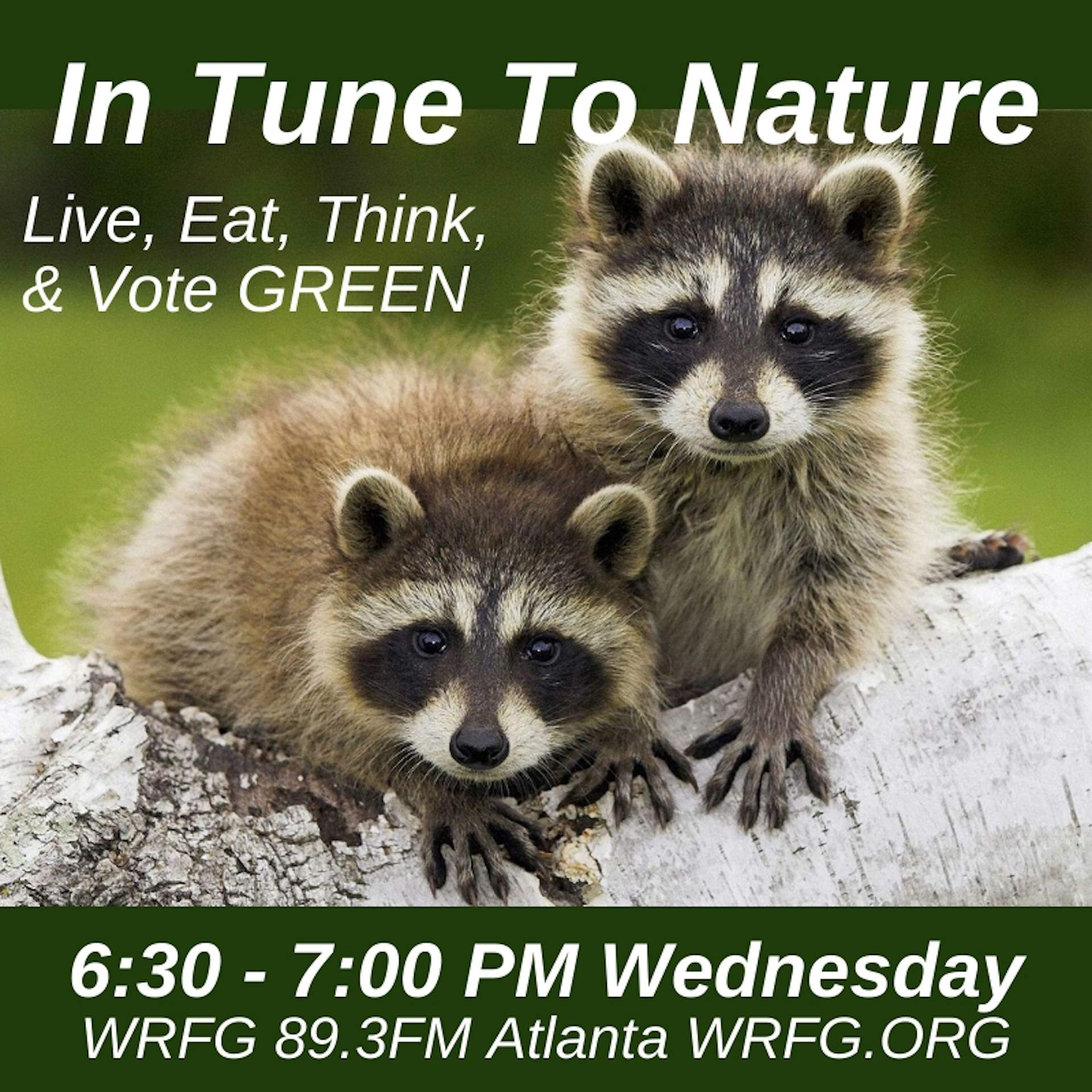 In Tune to Nature is an eco & animal protection weekly radio show broadcast from Atlanta on Radio Free Georgia Wednesdays from 6:30-7pm EST on wrfg.org and 89.3FM. 25-minute podcasts featuring interviews with activists, scientists, and authors who help us protect living beings and our shared habitats. Hosted by Carrie Freeman (Communication Professor and Human Animal Earthling). Studio photography by Ann Packwood.
Episodes
Friday Feb 17, 2023
Friday Feb 17, 2023
The stench and pollution of pig factory farms is devastating Black rural neighborhoods, but, despite intimidation, NC residents are fighting back in court against the world's largest pork corporation, as documented in "The Smell of Money" a full-length documentary film winning awards at festivals. Radio host Carrie Freeman interviews the film's writer and producer, Jamie Berger, a native of North Carolina, in this 25 minute podcast recorded in February of 2023. We know these warehoused pigs are suffering, but you'll also learn what is wrong with pig CAFOs (concentrated animal feeding operations) and their manure cesspools, and how unhealthy it is for the local community's wellbeing, dignity, quality of life, and property values in Eastern NC, such as Sampson and Duplin counties. You can find out where to view or financially support the film and see a trailer and photos of the characters at https://www.smellofmoneydoc.com/ 
In the podcast, filmmaker Jamie Berger discusses ways we can help by being conscientious consumers, getting politically active, and joining NGO advocacy groups for environmental justice and clean water (like Riverkeeper groups or Food & Water Watch). Carrie adds that Senator Corey Booker, on the Senate Agriculture committee, put forward an unprecedented bill called the Industrial Agriculture Accountability Act that really asks for some needed reforms to factory farming. So that could be a bill that folks may choose to ask their congress people to cosponsor or support, as the Industrial Agriculture Accountability Act, would really need widespread public support to be able to go up against the agribusiness and Big Meat lobby that wants business as usual, despite how environmentally unsustainable, polluting, and cruel it is.
In Tune to Nature is a weekly show airing on Wednesdays from 6:30-7pm EST on Atlanta indie station WRFG (Radio Free Georgia) 89.3FM hosted by Carrie Freeman or Melody Paris. Please consider donating to support this 50-year old independent, non-commercial, progressive Atlanta radio station at www.wrfg.org 
Take care of yourself and others, including other species.