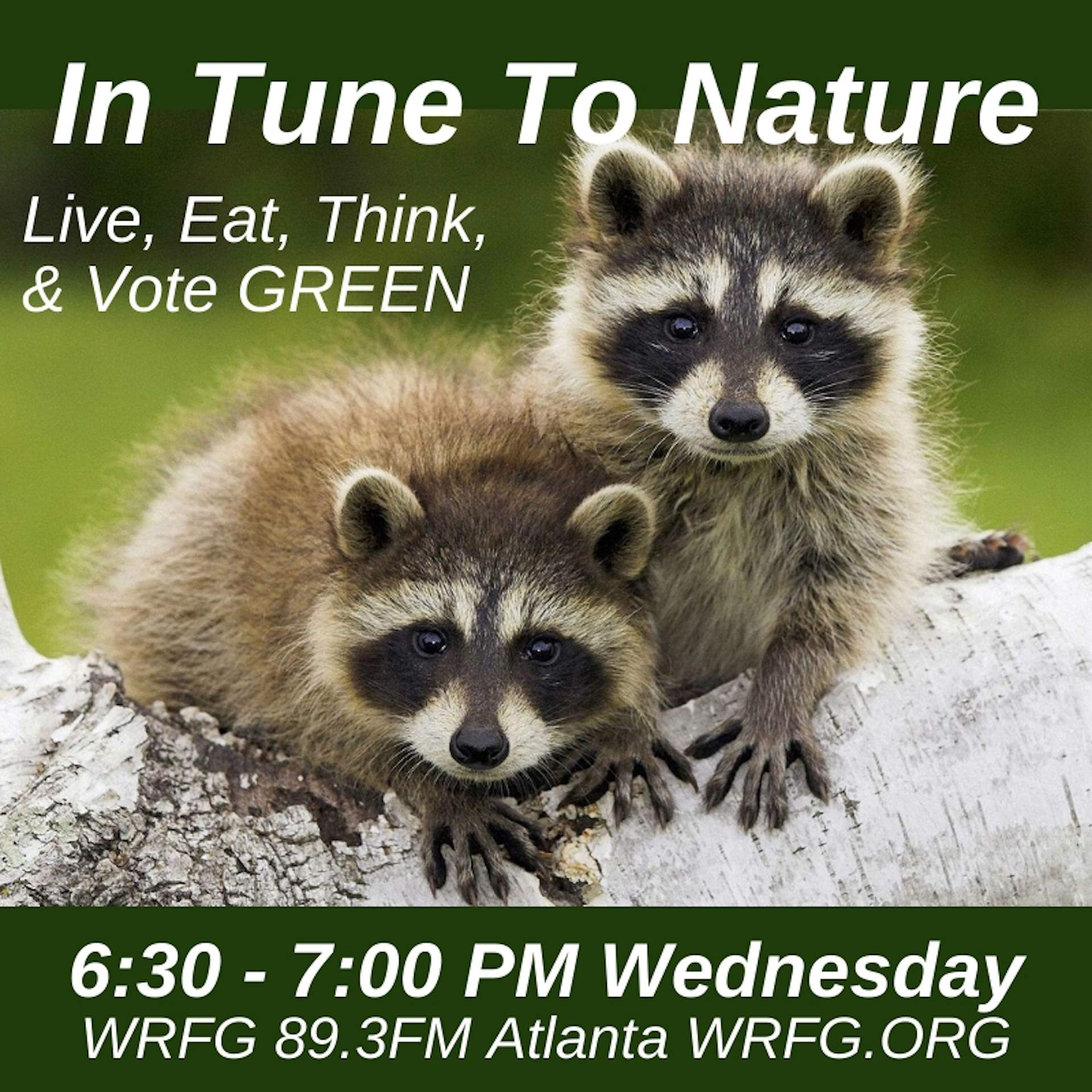 In Tune to Nature is an eco & animal protection weekly radio show broadcast from Atlanta on Radio Free Georgia Wednesdays from 6:30-7pm EST on wrfg.org and 89.3FM. 25-minute podcasts featuring interviews with activists, scientists, and authors who help us protect living beings and our shared habitats. Hosted by Carrie Freeman (Communication Professor and Human Animal Earthling). Studio photography by Ann Packwood.
Episodes
Monday Feb 06, 2023
Monday Feb 06, 2023
We take on some tricky ethical dilemmas in how we should treat animals in nature, especially "non-native" species (more respectfully called 'Introduced species'), and when and how we should interfere in the lives of animals in a 'post wild' world, based on her thoughtful and nuanced book "Wild Souls: Freedom & Flourishing in the Non-Human World, by environmental writer Emma Marris  https://www.emmamarris.com/.  Carrie Freeman, host of "In Tune to Nature," interviews Emma in this 26-minute podcast where we discuss: the idea of abandoning "species purity" and static or colonial notions of who should be in a given ecosystem; how to value sentient beings (animals) in relation to other (plant) living beings, systems, or whole species; and ethical, fair, and compassionate ways to resolve conflicts that arise between animal species (especially "non-native" vs "native" or "endangered/rare" species). While we don't have definitive answers to these ethical dilemmas, we take a perspective that includes the interests of all animal individuals in decision-making (not just what is presumed best for the ecosystem as a whole). This is part of the classic dilemma of how to fairly balance individual rights with societal/group rights.
Other resources on this topic include: The nonprofit science group working on welfare called  Wild Animal Initiative.  Or The Centre for Compassionate Conservation at UT-Sydney. Additionally, Catia Faria has a new book "Animal Ethics in the Wild"; and Kyle Johannsen has the new book "Wild Animal Ethics."
In Tune to Nature is a weekly show airing on Wednesdays from 6:30-7pm EST on Atlanta indie station WRFG (Radio Free Georgia) 89.3FM hosted by Carrie Freeman or Melody Paris. Please consider donating to support this 50-year old independent progressive Atlanta radio station at www.wrfg.org 
Take care of yourself and others, including all the unique beings we share our planet with.