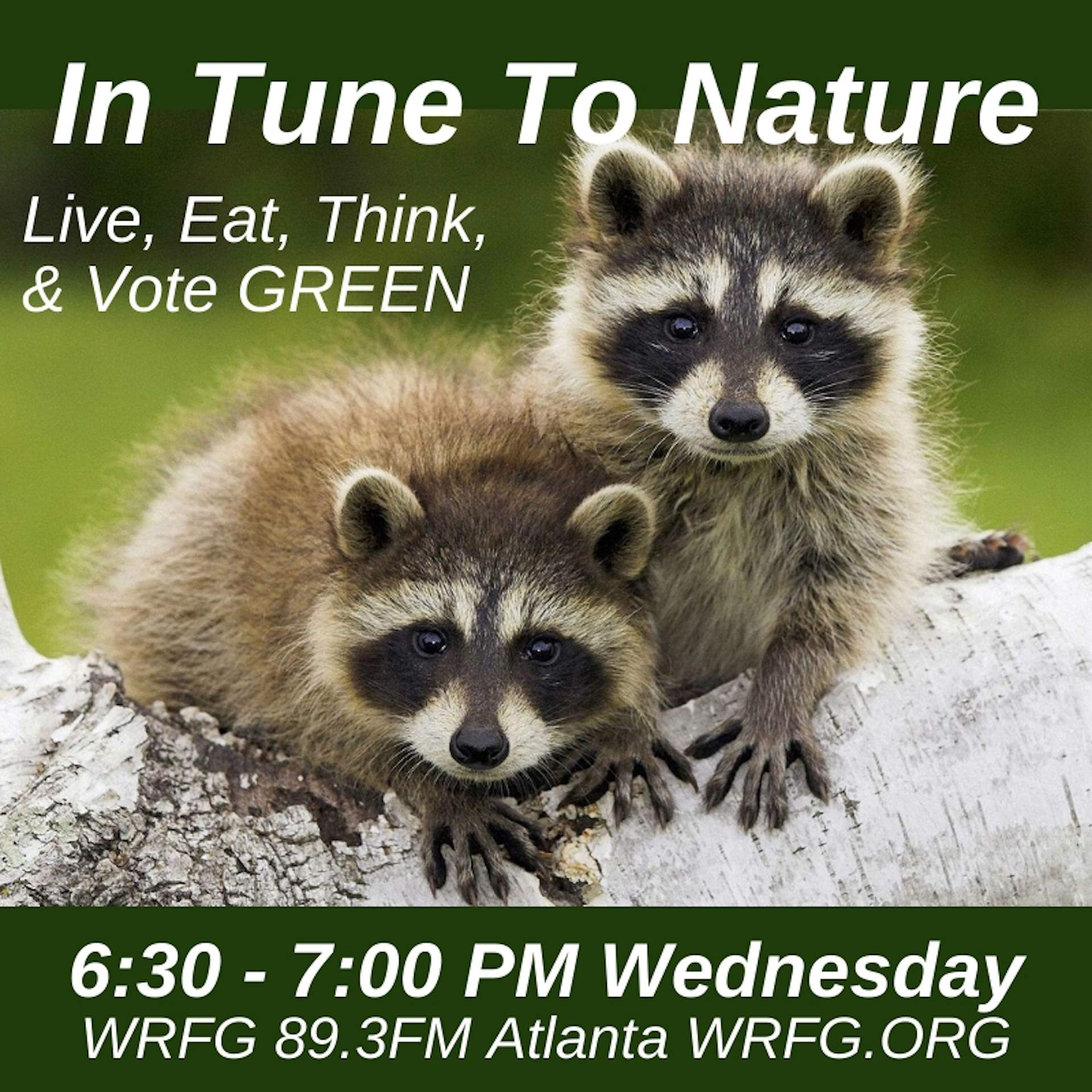 In Tune to Nature is an eco & animal protection weekly radio show broadcast from Atlanta on Radio Free Georgia Wednesdays from 6:30-7pm EST on wrfg.org and 89.3FM. 25-minute podcasts featuring interviews with activists, scientists, and authors who help us protect living beings and our shared habitats. Hosted by Carrie Freeman (Communication Professor and Human Animal Earthling). Studio photography by Ann Packwood.
Episodes
Friday Sep 09, 2022
Friday Sep 09, 2022
An interview with Kristin Ohlson, author of "Sweet in Tooth & Claw," showcasing examples of how nature (including we human animals) thrive on cooperation and mutual aid between species, rather than focusing on the competitive or violent elements in nature that prompt us to try to tame and control species (and douse them with chemicals). The book "Sweet in Tooth and Claw: Stories of Generosity and Cooperation in the Natural World" shows how when we look deeper and embrace the complex interdependent communities all over our planet, we can all reap mutual rewards, much more so than when we see ourselves as needing to simplify, contain, and control species (in isolation).
In Tune to Nature host Carrie Freeman interviews award-winning author and journalist Kristin Ohlson in this 24-minute uplifting podcast, talking trees, bees, birds, fungi, and coffee beans. 
The 400-page coffee-table book by Patagonia is printed on 100% recycled, chlorine-free paper and is filled with gorgeous color photos. 
In Tune to Nature is a weekly show airing on Wednesdays from 6:30-7pm EST on Atlanta indie station WRFG (Radio Free Georgia) 89.3FM hosted by Carrie Freeman, Sonia Swartz, or Melody Paris. Please consider donating to support this 50-year old independent progressive radio station at www.wrfg.org 
Take care of yourself and others, including other species. (that's my motto and the theme of the book)